Train jij als wielrenner of triatleet met dit regenachtige weer liever binnen? Wil jij na de herfst en winter fit het voorjaar in? Dan is het fijn om een spinningfiets te hebben mét Zwift. Het voordeel van een spinningfiets is dat je ook altijd toegang hebt tot jouw racefiets. Mocht het een keer een mooie, droge en zonnige herfst- of winterdag zijn kan je jouw racefiets meteen mee naar buiten nemen. De Senz Sports S5000 vinden wij echt een hele goede keuze. Deze spinningfiets kan je ook koppelen aan Zwift én hij is ook nog eens 36% afgeprijsd. Ook fijn: Senz Sports is een Nederlands bedrijf met meerdere fitnessapparaten in het assortiment.
Over de Senz Sports S5000
Deze spinningfiets kan belast worden met een maximaal gebruikersgewicht van 130 kg. De weerstand kan worden geregeld met behulp van een sterke magneet. Dit is een ideale manier omdat je dit systeem – in tegenstelling tot weerstand dat bepaald wordt door een viltblokje – niet hoeft te onderhouden. Ook is het systeem geruisloos. Handig voor wanneer je geen klagende buren wilt. De spinningfiets is ook stiller omdat er gebruik wordt gemaakt van een industriële V-Belt. Deze techniek is een stuk stiller dan wanneer er gebruik wordt gemaakt van een kettingaandrijving. Door het vliegwiel van 18 kg voelt de trapbeweging soepel en vloeiend aan.
Spinningbike - Senz Sports S5000
Bekijk
Betersport.nl
prijs opgehaald op 20 oktober 2020 05:37
De nieuwe Senz Sports S5000 is een sterke en stijlvolle spinningfiets die jouw thuissportplek verandert in een wielerbaan. De S5000 is geschikt voor de intensieve thuissporter en voor (licht) commercieel gebruik.
Voordelen van deze spinningfiets voor wielrenners en triatleten
De Senz Sports S5000 heeft verschillende voordelen – naast de bijzonder voordelige prijs – die hem als spinningfiets een hele goede keuze maken. Voor wielrenners en triatleten is de bluetoothkoppeling ideaal. Met deze bluetoothkoppeling kan je namelijk ook makkelijk verbinding maken met onder andere Zwift. Je kan de weerstand tijdens het fietsen makkelijk elektronisch instellen. Ook maakt het vrijloopsysteem het fietsen op deze spinningfiets veiliger en meer zoals het fietsen op de weg. Als je stopt met trappen staan jouw voeten direct stil i.p.v. dat ze nog doordraaien. Deze spinningfiets is geschikt voor intensief thuis gebruik. Je kan het zadel van de Senz Sports S5000 horizontaal en verticaal verstellen. Het stuur kan je naar wens hoger of lager zetten.
De Senz Sports S5000 kopen
Prijs: €699,- | Demo model: €649,- | Bekijk de Senz Sports S5000 bij Betersport
Wil jij deze spinningfiets graag aanschaffen? Dan is het wel handig om te weten dat je de fiets kan vinden in de Betersport webwinkel. De fiets is momenteel maar liefst 36% afgeprijsd. Er zijn ook verschillende demo-modellen verkrijgbaar die nóg goedkoper zijn. Deze modellen kunnen lichte gebruikerssporen bevatten waardoor ze nog voordeliger geprijsd zijn. Je kan een demo model kopen die al is opgebouwd. Zo hoef je dat zelf niet meer te (laten) doen. Het is natuurlijk wel handig om van tevoren te kijken of de opgebouwde fiets wel door de voordeur past. Ook kan je een demo model aanschaffen in de verpakking. Je betaalt dan hetzelfde bedrag maar krijgt de spinningfiets geleverd in de verpakking. De spinningfiets kan je gratis retourneren binnen 30 dagen. Ook krijg je één maand gratis cyclemasters, garantie aan huis, gratis verzending en een gratis "goed van start" boekje. Bestel je de fiets voor 20.00? Dan is hij de volgende dag in huis.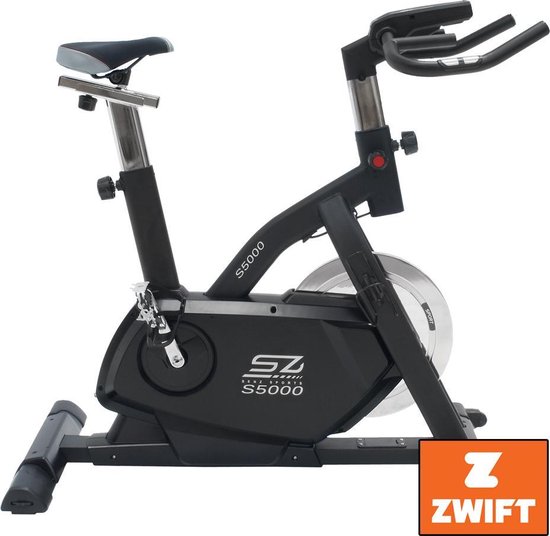 Bol.com
Blokker.nl
Betersport.nl